VietNamNet Bridge – Phu Quoc, Vietnam's largest island, located off the coast of the Mekong Delta province of Kien Giang, is experiencing a boom in investment in tourism and hospitality, opening unparalleled opportunities for investors. It has become a great construction site with over 200 projects and registered capital of more than VND180 trillion ($8.3 billion) by the end of July.
Vice Chairman of Phu Quoc District, Mr. Huynh Quang Hung, said that by late July 2015, Phu Quoc had 136 ongoing projects, with a total area of 5,110 ha. Of these, several projects with capital of several thousands to several tens of trillion dong, invested by giant corporations as Vingroup and Sun Group and a number of other large investors are ready to start. Some investors are also willing to invest in a new casino project in Bai Dai with an area of 30,000 m2 area and committed capital of $4 billion.

Below are some huge projects on Phu Quoc:


1. Phu Quoc Int'l Passenger Port

This project kicked off in April 2015 by Phu Quoc Tourism Development and Investment Joint Stock Company, a subsidy of Vingroup, Vietnam's leading real estate corporation.

According to the design, the port's terminal and supporting facilities will be built on 2.8 hectares while its pier, dyke system and turning basin will be constructed on 176.5 hectares.

The terminal and supporting facilities will be built under the build-operate-transfer (BOT) format at a cost of VND493 billion (US$22.9 million), 30% of total investment capital.

When in place, the port will be able to handle the world's current largest cruise ships that carry 5,000-6,000 passengers each as well as container and military ships. The project is scheduled for completion in late January 2017.

Phu Quoc international passenger port is expected to support sea transport, and boost economic and tourism development on the island.

The port together with Phu Quoc International Airport will assist the island to attract more domestic and foreign travelers.

2. VND10 trillion cable car system-resort

Kien Giang authorities have approved a project on building a cable car system linking An Thoi Town and Hon Thom Isle on Phu Quoc Island.

The project including a 7-km long cable car system and a hotel and entertainment complex will be invested at a total cost of VND10, 000 billion (US$458.4 million) by the SunGroup.

The first phase of the project worth VND4, 900 billion (US$225 million) will be completed by 2017.

Hon Thom is an archipelago off the southern coast of Phu Quoc Island, consisting of 18 isles.

Hon Thom is considered as the pearl of Phu Quoc and famous for its beautiful beaches, a best place for fishing, diving and watching coral.




3. The 2nd largest zoo in the world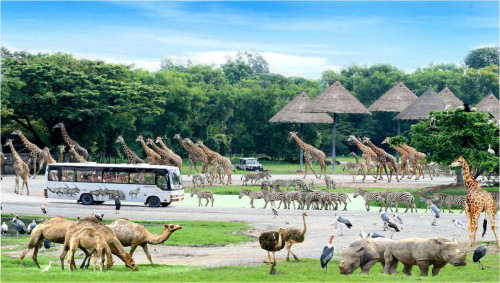 The Vinpearl Safari Zoo is being promoted by Vingroup on Phu Quoc Island with a total investment of $150 million. The zoo is located on 500 hectares in the two communes of Ganh Dau and Cua Can. It will be modeled after the zoos in Thailand and Singapore. It will be home to 130 species and about 1,500 animals of Vietnam and across the world.
The zoo will have themed areas including Africa, India and Australia initially, alongside animal shows, Disney Center and themed visitor areas
Mr. Huynh Quang Hung, Vice Chairman of Phu Quoc, said this will be the 2nd largest zoo in the world. Once the work is completed, it will be a highlight of Phu Quoc Island to attract tourists and to compete with major tourist destinations in the country and the region as Phuket (Thailand), Bali (Indonesia) ...
4. Phu Quoc deep water port
This project is funded by the Vietnam Oil and Gas Group (PetroVietnam), including many items. Initially, PetroVietnam will invest over VND2 trillion in two projects: a synthetic oil service port system and a bonded fuel warehouse.
PetroVietnam kicked off these projects in late June 2015.
PetroVietNam Technical Services Corp will invest VND4.2 trillion (US$192.7 million) in the port system. Covering 116.5 ha of land and 60 ha of sea, the project is to be built in three stages. The first stage will be completed in the second quarter of 2017. The last two stages will begin after 2020.
The construction and operation of the port system will serve gas exploitation and transport from Block B, 48/95, 52/97 and other gas fields in the region, as well as provide logistics for the socio-economic development of the Phu Quoc Island District and the whole southwest region.
PV Oil invested VND1.4 trillion ($64.2 million) in the fuel warehouse, built on 35.16 ha of land and 60 ha of sea. The first stage, expected in the last quarter of 2017, has a storage capacity of 70,000 cubic meters. The port system will serve vessels with a deadweight tonnage (DWT) of up to 80,000. The second stage will start after 2017.

5. 175ha amusement park
A cooperation project for the Ho Suoi Lon entertainment and sports park on Phu Quoc Island was signed last week between the Foundation Engineering & Underground Construction JSC (FECON) and the UAE's Vault Investment Fund.
The park is expected to be built in the center of Phu Quoc Island on an area of 175 ha and include horse racing, shooting, car racing and water sports. The two partners are said to be researching clean energy supply for the park.
FECON is the local project developer and the Vault Investment Fund is the financial investor. A representative from FECON said that since 2014 the company has accelerated its market research and sought investment opportunities in Dubai (UAE) and Myanmar.
Vault Investment Fund belongs to Nakheel, one of the five largest real estate and infrastructure developers in the UAE.
Phu Quoc, also known as Pearl Island, is the largest island in Vietnam, with a total area of about 580 square kilometres. It has become well-known for its stunning beaches, untouched natural environment, relaxed atmosphere, friendly and easygoing local people, and fantastic scuba diving and snorkeling.
In June the government issued Decision No. 88 on the development plan for the island to 2030, with 4,300 ha set aside for tourism, 3,325 ha for a residential and tourism complex, and 1,234 hectares for forests. Several projects to build harbors and monuments are in the pipeline.
Sources: english.vietnamnet.vn