VietNamNet Bridge - With a motorbike, you can putt around the island, drop in at any beach to swim, and walk on shady roads.
The Tranh River. Photo Gesdman.
Here are 20 things that any visitor may wish to experience when they come to Phu Quoc Island in Kien Giang Province:
1. Enjoy the sunset at Dinh Cau Rock (Temple): One of the many attractions in Phu Quoc is Dinh Cau Rock or Dinh Cau Temple, which is located at the mouth of the Duong Dong River in Duong Dong Town.
It is a combination of a Buddhist temple and a lighthouse that was built in 1937 as a dedication to Thien Hau (the Goddess of the sea) who provides protection for the fisherman and vessels that head out to the open waters. Climbing the steps offers a better view of the many fishing boats navigating the narrow river opening, as well as views along the coast.
The beachfront here also is a good place to view the sunset and local life in the evenings. There are views of a small lighthouse in the distance and the beaches of the townspeople.
2. Diving to see corals in Hon Thom: Hon Thơm is the largest island in the commune of Hon Thom, with a population of over 3,00.
People live concentrated on the east and west shores of the island and tend to follow the seasonal winds that make the island interesting and special. Almost every family on this island owns two houses, one on the east side and one on the west. They move between homes with the changing seasons, and the two seasons are referred to as "mua truong" and "mua nam".
When a family vacates a house, they cover the front in coco leaves to prevent sand and sea salt, which tends to rust furniture, from blowing in.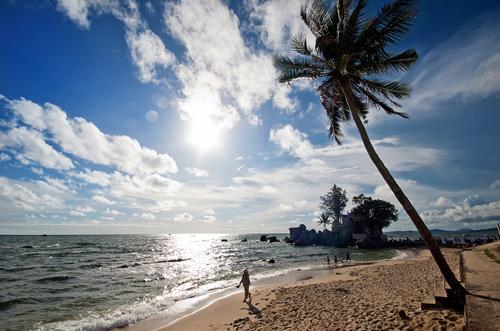 A beautiful beach on Phu Quoc Island. Photo Gesdman.
Visitors can reach Hon Thom by two kinds of boat. Cruise ships organize tours for fishing and diving on the coral reefs, and passenger boats, which travel between Hon Thom and An Thoi.
The closer to Hon Thom, the clearer the image of a real fishing village. Many temporary houses are built up on the sea shore; fishermen can be seem mending their nets in a leisurely and peaceful fashion. Go to the island center to find a small market. Hon Thom does not have paved roads - only dirt roads, lined by large trees that do a great job of cooling the air.
3. Swim in Da Ban Spring: It is located 16km east of the center of Duong Dong town, in the center of the Phu Quoc Island.
On Duong Dong route 1km north, turning right along a bendy road, tourists arrive at Da Ban stream – a wonderful natural site. The weather is as cool as that of Dalat, and it is very quiet because there are few people here.
A stream rises from a high mountain range, edging its way through big, flat stone slabs lying in series. This is the Da Ban stream. The stream is almost poetic, and reminds one of a watercolor painting of two gods playing chess on stone slabs.
In addition, tourists can climb on stone slabs to listen to the water babbling and birds singing. It's the music of forest – a kind of music that, with its melodious rhythm, no musical instrument can fully imitate.
Fishes in the stream go here and there.
Collecting wild fruits, dipping in the stream, making fire in a cave or catching fish for grilling, tourists will have a most interesting meal. For a moment, we become cavemen in the 20th century.
4. Go picnic at Tranh Stream: Suoi Tranh is located 7 km west of Duong Dong town, about halfway to Ham Ninh on the east coast.
Just inside the entrance to Suoi Tranh are Eden-like gardens adorned with large statues of figures from the ancient Chinese fable "Journey to the West". Some of you may recall the TV series "Monkey", which was based on the same story.
Suoi Tranh is made up of a string of peaceful rock pools and waterfalls and the short trek to the larger waterfall at the top of the trail is well worth the effort.
5. Admire the scenery of Da Ngon stream: With its system of seven waterfalls, Da Ngon stream is a suitable place for those who love to explore and adventure. It has water all year round. But visitors should be careful when coming to Da Ngon Stream in the rainy season, as rocks here are slippery and dangerous. The period from November to April is the best time to visit this stream.
6. Bath at Dai Beach: With the white sands and the green, clear water, Dai Beach is one of the most beautiful and primitive beaches, as voted by the BBC. Dai beach's coast is 1500 meters long. Many large trees grow straightaway along to the coast. This beach is new land of great potential which can help Phu Quoc Island develop its tourism.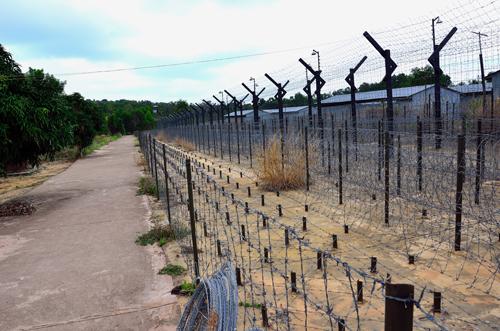 Outside the Phu Quoc Prison. Photo Gesdman.
7. Sao Beach: On the east side of Phu Quoc lie some of the most beautiful beaches on the island. Getting to Sao beach is a bit tricky. You will need some local help to get here. If you take a taxi, it won't be so difficult to find the place, however remember that it is a little isolated. There are a couple of restaurants here and one place with basic accommodation.
8. Pristine Khem Beach: Just over the boulders from Bai Sao beach, Bai Khem is breathtaking in its beauty. But there's a catch — it's a military zone, and tourists (that's you) are not permitted. If you try and reach it from the road you can expect the military checkpoint to turn you away. By climbing over the rocks from Bai Sao you can get a glimpse of the beach and, depending on how cheeky you're feeling, have a swim, but bear in mind you are breaking the law and if you're caught, you will be in trouble.
9. Discover Ganh Dau: Ganh Dau is a destination that you should not miss in Phu Quoc. If Phu Quoc is called Pearl Island because of its shimmering, pure, wild and romantic beauty, Ganh Dau is the brightest pearl on the necklace.
Ganh Dau is located in the northern section of Phu Quoc, in which pristine forests, mountains, and seas remain intact. From the town of Duong Dong, you ride a motorbike back up the northern side of the island. Just out of a slightly crowded town you can see red dirt roads running through many peaceful villages.
From Ganh Dau, you can visit Nguyen Trung Truc Temple and see breathtaking natural beauty that is vast and beautiful.
Here is a bow beach running over 500 meters long, shielded by two mountains. Standing on Ganh Dau, you can see Ta Lon mountain of Cambodia. Ganh Dau has a lot of coral, rocks and various kinds of fish, particularly red grouper. Seafood here is cheap, and is caught by the fishermen and cooked on the spot to be ready for you to enjoy.
The most enjoyable activity when you visit Ganh Dau is just swimming and viewing the borderland between Vietnam and Cambodia. If you like exploring, you can rent boats to come to two islands offshore: Hon Ban and Hon Thay Boi..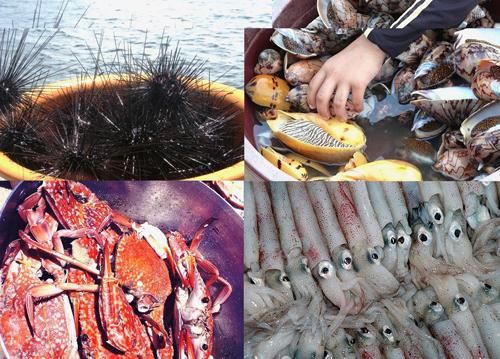 Phu Quoc's fresh seafood. Photo Gesdman.
The shape of Phu Quoc Pearl Island is like a fish with its tail thrashing, swimming to the north, its mouth wide open. That mouth is Ganh Dau, where primary forest stops right at the white sand beaches.
Seafood specialties of Ganh Dau are very fresh and quite cheap. After sightseeing, swimming, or playing, you can ask to buy shrimp, fish, or squid from the fishermen and ask them to cook it.
The local people are friendly, simple, and good-natured.
10. Explore Phu Quoc National Park: Phu Quoc National park covers more than 50% of the island, so it is definitely worth considering a visit, especially if you would like to escape the heat of the daytime sun, take a walk along a park trail or motorbike on one of roads in the north. It will give you a taste of the natural environment on Phu Quoc.
Phu Quoc National Park was established in 2001, and includes 8,603 hectares of strictly protected area, 22,603 hectares of biological restoration area and 33 hectares for administration and services. An additional 6,144 hectares is dedicated to a land-buffer zone, with around 20,000 hectares of sea-buffer zone, though the final Marine protection zones are yet to be declared.
Located on an island with mixed terrestrial and coastal climates, Phu Quoc National Park contains many forest types and landscapes, including mangroves and wetlands, sparse forested areas, coastal vegetation and forest on rocky mountains. Studies by the Vietnam-Russia Tropical Center in 2005 recorded 1,164 higher plant species, including 23 orchid species and 12 rare plants, including the globally endangered Paphiopedilum callosum which was recently found in the park.
A total of 208 animal species were recorded in the National Park, including 28 mammals, 119 birds, 47 reptiles and 14 amphibians. Of these animal species, 6 mammal, 4 bird and 9 reptile species are globally endangered. The rare species here include lorises, the long-tailed macaque, silver langur, otter, and hornbill.
Phu Quoc National Park is not strictly defined, however until the National park is made more accessible for the needs of tourism, the following options are available for visitors keen to explore what is on offer;
Hire a motorbike on your own and explore the northerly parts of the island. The best areas and most forested parts can be found on the road toward Ganh Dau. To get there, take the road from Duong Dong towards Bai Thom and turn off toward Ganh Dau. The national park becomes more apparent the closer you get to Ganh Dau Village.
Walking trails are limited, though for a great way to experience the national park there is a good walking trail 5km before Ganh Dau, where the going is relatively easy and the trail wide enough to take in the surrounding environment. The walk is a particularly pleasant way to escape the heat, as the vegetation provides cover from the heat of the sun. Take the same road mentioned previously towards Ganh Dau and 100m after the 5km Ganh Dau road marker on the left hand side you'll find an opening in the national park with a clearly defined walking trail, which continues for a couple of kilometers. Note, besides the 5km Ganh Dau marker, the actual trail is not sign posted.
If you'd like to experience the National Park along with other sites, you might consider booking a tour through one of the many tour operators on the island, or enquire with your hotel.
11. Visit Ham Ninh fishing village: Located 20km northeast of Duong Dong town, Phu Quoc district, Ham Ninh village is renowned for its breathtaking natural scenery and peaceful daily life of local fishermen.
Originally, the residents in Ham Ninh used to solely rely on fishing to make a living, but in recent years, tourism has become a major source of income as they sell seafood and handmade souvenirs to tourists.
In hot summer days, traveling to Ham Ninh, visitors are likely to leave their bustling life behind, and be lost in the picturesque scenery here. Stunned by the turquoise sea, tourists are certainly tempted to immerse themselves into the cool water and contemplate small fishes swimming beside them, and seaweed floating in the blue water.
Visiting Ham Ninh, travelers have a golden chance to taste mouth-watering and healthful drinks and seafood like ginseng-seaweed water, "Tram" mushroom (a special kind of mushroom in the island), sea-horse soaking in the liquor and so on. And it is so great to lie on the sand, enjoy boiled flower crab meat and watch the stunning sunset on the beach. Before returning home, visitors can buy flower crabs, a bottle of sea-horse in liquor or some souvenirs made of shell as gifts for friends and family.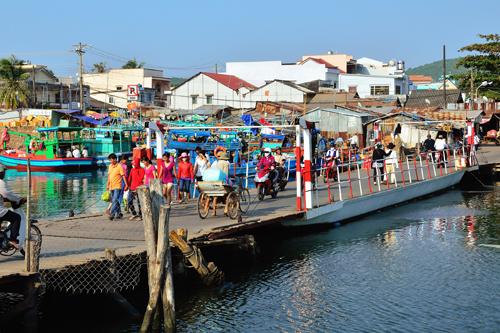 Photo Gesdman.
12. Coi Nguon Museums:
Located on a small hill on Tran Hung Dao Street in Duong Dong Town, the museum was established in 2009 by Huynh Phuoc Hue, who has spent over 15 years collecting thousands of antiques and artifacts.
Tourists can buy tickets at VND20,000 each, accompanied with a brochure on the museum, and start their journey to explore the five-story building in an area of over 1.5 hectares. There are 2,645 antiques made from stone, pottery, bronze and fossilized wood dated from the 15th century to the early 20th century, and 540 artifacts consisting of furniture, artworks and fishing tool and household appliances. There are also around 100 traditional paintings.
Tourists can discover Phu Quoc's natural conditions, an overview of the museum, and battles to protect the island on the ground and first floors respectively. The second floor exhibits antique collections, while the third floor displays the model of a wreck and numerous antique fish from sunken vessels discovered on the eastern side of the island. Images of local peoples' daily lives are on display at the fourth floor. The rooftop has a panoramic view of Duong Dong Town, a pearl blue sea and an immense forest.
If you tire of walking, you can go to souvenir shops on the ground floor selling jewelry made from pearl, fossilized wood and shells and craft products made from lua wood. Or you can climb the hill to see a very interesting place – a sea eagle reserve in which you can admire numerous beautiful white and black birds standing inside a giant iron cage raising their strong voices or spreading their wide wings to fly around the cage.
Tourists can also escape the sunlight and heat under the shades of many romantic tree houses along the path leading to the sea eagle reserve.
Coi Nguon Museum is located at 149 Tran Hung Dao Street, Quarter 7, Duong Dong Town, Phu Quoc Island, Kien Giang Province.
13. Learn about Phu Quoc Prison: Phu Quoc Prison was built in 1949-1950 by the French colonists to jail those considered especially dangerous to the colonist government. Many of the high ranking leaders of Vietnam were detained here in their earlier days. It is ranked as a special historical relic of national importance by the government of Vietnam. The most famous site in this prison is the "tiger cage". The prison covers an area of 40,000 square metres. It was closed after the country united and opened for visitors later.
14. Nguyen Trung Truc Temple: The temple was built as a dedication to the local hero Nguyen Trung Truc, after he was executed. Later, it was rebuilt spaciously. Each year, on the anniversary of his death, many tourists attend a festival here and burn incense to pray for Nguyen Trung Truc.
15. Buy Phu Quoc fish sauce: There are over 100 fish sauce producers in Phu Quoc. Phu Quoc fish sauce is renowned for its traditional flavor that has been maintained for more than 100 years. You can buy fish sauce as gifts.
16. Ho Quoc Temple: This temple was recently inaugurated near the town of An Thoi, with a good view down to the beach.
17. Go to Phu Quoc Market: The market is bustling from early morning with all kinds of boats providing fruit and seafood. The everyday life of ordinary people on the island can be seen from this market.
18. Pick rambutans: In the harvest season in June and July, gardens along the road to the town of Duong Dong are dyed in the red color of rambutan. You can drop in at a garden and pick fresh fruit yourself. Be careful with the black ants on the trees.
19. Pepper gardens: Phu Quoc pepper is very famous for its pungent aromatic taste. After visiting a pepper garden, you can buy some dry pepper as gifts for your friends and families.
20. Enjoy seafood at Dinh Cau Night Market: The market opens daily from 18h to 23h in Duong Dong town, where you can freely select and taste the delicacies that are not to be missed, such as lobster, herring salad and snails.
Compiled by Pha Le